Malapascua Island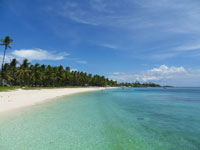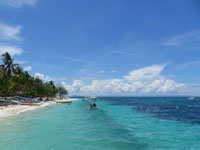 Malapascua Island is a beautiful small island situated 8 kms off the northern tip of Cebu Island without any traffic, yet unspoilt by tourism and pollution. Here you can get a real slice of Filipino life.
The archipelago is famous for its unique diving spots, Probably the best dives in the Philippines. It is the only place in the world you can reliably see thresher sharks. Divers from all over the world come here to admire the well preserved coral reef and the huge diversity of colourful marine species.
Activities

The main attraction in Malapascua is diving and snorkeling. Take a dive in the crystal clear waters near the shipwreck of a World War II Japaneese ship or dive at Monad Shoal, an advanced diving site for Open Water certified divers. The long sandy beaches of Malapascua Island attract walkers or sun seekers alike. Why not soothe away the city stress with a coconut oil massage on Bounty Beach, the best beach of the island. Motorbykes or bicycles are also available for hire for those wishing to explore Malapascua Island.
Food

Malapascua has some excellent Western owned restaurants. Proposing both Filipino and European fare. Most of the restaurants and many bars can be found along Bounty Beach. A bit back from the beach you won't miss "Ging Ging", a small quiet eatery. Here they serve delicious vegetable (vegetable curry) and fish dishes in a relaxed atmosphere. On your way to Barangay hall there is also "Kiwi eatery" which lies near the school.
Weather

The climate in the Philippines is tropical, with high temperatures, a high level of humidity and heavy rainfall. During the coolest months of the year the temperature remains above 25° Celsius, and the average annual humidity remains in-between 71% to 85%. The best season to visit Malapascua Island is during the dry season, from December to May. During the rainy season, from July to November, the typhoons rarely affect Malapascua, which has less rainfall than Cebu City.